After reading reviews and watching youtube videos on these little wonder sheets for AGES, I finally caved and searched on evilbay to see what I could find. Seeing as how I was new to not only Beauty Diary, but also sheet masks in general, I wanted to try and find one of the sets with multiple of the masks to try.
I ended up ordering two of the three limited edition Alice in Wonderland, and I could not be happier that I did!
If you aren't familiar with sheet masks, essentially its a fabric sheet soaked in a fluid mask, with holes for your eyes, nose and mouth that you place on your face for up to 30 minutes. I've read different things about post mask etiquette, so to speak, but I like to get the most out of them and rub in the excess fluid until my face is no longer wet.
I usually apply them after cleansing, before moisturizing, and have been using them usually ever other night.
que hilarious face mask photo :)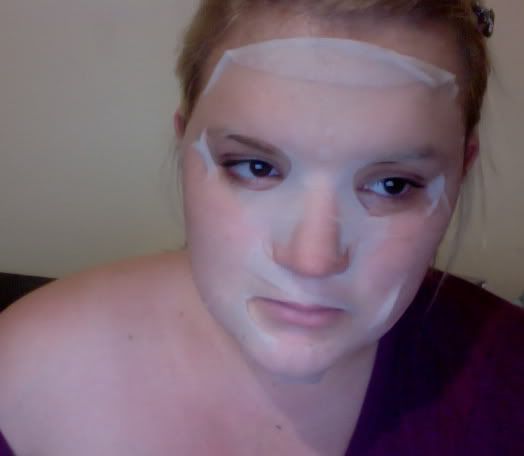 overall I would definitely recommend these, and these have been replacing my usual cream masques since I got them!
My favorites so far: Aloe, Bulgarian White Rose and Black Pearl Powder
also, be wary when buying these off ebay, and make sure to buy from a reputable seller!
quite a long post for tonight, sorry I'm a little chatty!
xx theblondeandthebeauty